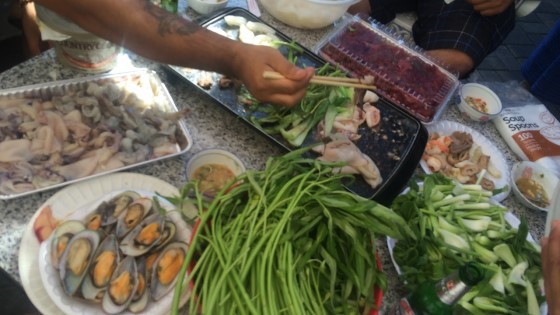 Intergenerational Community Storytelling with
Sharing and Comfort and Care: Intergenerational Story-Mapping in the Cambodian, Native Hawaiian, and Pacific Islander Communities
"Sharing and Comfort and Care: Intergenerational Story-Mapping in the Cambodian, Native Hawaiian, and Pacific Islander Communities" has launched. The Sharing Comfort and Care project team, based at UC Irvine, has partnered with two community-based organizations (The Cambodian Family and Empowering Pacific Islander Communities) to mentor college students, alums, and graduate students from across Southern California and beyond to conduct oral histories with community elders, create digital story-maps, and share meaningful and healing recipes.
Watch the recording from the event here.
For more information, see the
project website
.
The Sharing Comfort and Care project showcases intergenerational and intercultural sharing of stories related to migration, health care, and food for two of the most underrepresented groups within the Asian American and Pacific Islander communities, specifically Cambodians and Native Hawaiian Pacific Islanders (NHPI).
Sharing Comfort and Care is co-sponsored by California Humanities, the UCI Humanities Center, the Southeast Asian Archives, UCI Libraries, UCI Asian American Studies, the Cambodian Family, and EPIC (Empowering Pacific Islander Communities)