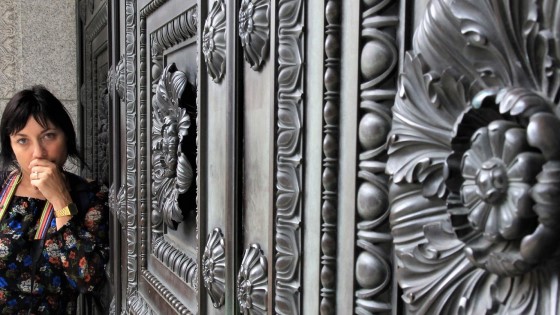 Thinking through Humanities Funding with Data
One of our Humanities Out There (H.O.T.) Fellows Reflects on Her Experience with California Humanities
Kierstin Brehm is a Ph.D. student in the Department of European Languages and Studies
Last year, I worked as a H.O.T. fellow for California Humanities, a re-granting organization dedicated to funding public humanities projects in California. They are looking toward the future and are in the process of transitioning to a business model that leverages data analytics to measure and analyze program design and outcomes. The intent is to help strengthen their programs and predict successful outcomes. As a humanist, embracing big data is not always in our wheelhouse. We are qualitative people in an increasingly quantitative world, and sometimes there exists a fear that in the quest for "efficiencies," data will dehumanize one of the last havens for those dedicated to the human experience.
However, as someone interested in informatics, particularly when thinking about program design, I find this move incredibly exciting! It's the program that is being measured – not the humanist's output per se. And in the case of the Library Innovation Lab program at California Humanities, carefully crafted (user centered) program design paired with their pilot implementation of data gathering activities, showed 'measurable' results. The results, which were based on librarian (user) feedback, were overwhelmingly positive!
As a fellow, I also documented existing resources and was able to use this curated list and my understanding of my own learning insights to put together a presentation. The presentation allowed me to present my infographic prototype as well as "teach" the basics of infographic development and its relation to data analysis to an audience of diverse stakeholders.
My experience prompted me to take a second look at what "data analytics" folks do, and I realized that there is a key position in this framework for someone like me: someone with an interest in "change management." So, in my case, this project made me think about opportunities for working with local cultural organizations interested in transitioning to or adopting a more analytical approach. My work as a fellow also made me think about what additional skills I would need to acquire to be able to realistically do this type of work.
Hands down, the most rewarding aspect of working in my position at California Humanities was working with their staff. Everyone was so friendly, so helpful, and so interested in helping me succeed! I was working under the supervision of Felicia Kelley and she was such an amazing role model! I also loved being able to try something new: work with raw data to tell a story visually. I have never loved the term "prototype" more! I really enjoyed the way developing a "prototype" afforded me the opportunity to try my hand at data visualization – and to understand what goes into it.
If you are looking into being a public fellow, you are already on the right track to opening doors for yourself. View each part as a learning and professionalization experience. Choosing which organization to apply to is the first opportunity. Take time to look at the list and investigate the organizations and position. When you put your application materials together, use this opportunity to polish your resume and cover letter. Follow the advice to personalize each to the company and position. Prepare for your interview. Look up some questions. Choose a "professional" outfit. Lean into the interview. The application process is an opportunity to practice in real-time what it's like getting ready for the job market.