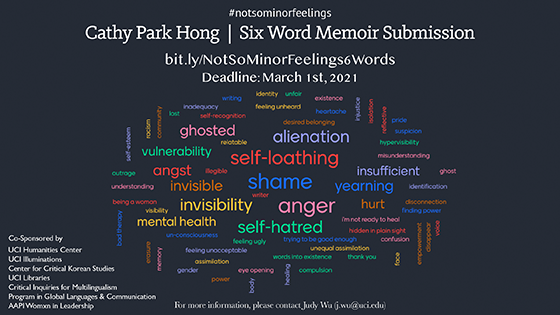 Announcing #NotSoMinorFeelings Six Word Memoir Project
What six words come to your mind as your read Cathy Park Hong's book, Minor Feelings?
Cathy Park Hong, author of the best-selling book Minor Feelings: An Asian American Reckoning, will be visiting UCI on April 15. Numerous events since the publication of Minor Feelings in early 2000 have asked the US to reckon with its histories and pervasive cultures of systemic racism. What exactly needs to be reckoned with, and who should be involved? What does it mean to be Asian American in this unprecedented moment? Do literature and the humanities more broadly play unique roles in interrogating the events we find ourselves in?
To learn more about Minor Feelings, please see:
https://guides.lib.uci.edu/UCIBigRead/minorfeelings
In anticipation of Hong's visit, we are launching our
#notsominorfeelings
: six word memoir project (
https://www.sixwordmemoirs.com
).
To submit your six words (and an accompanying image) for instagram posting, please visit:
https://bit.ly/NotSoMinorFeelings6Words
Please submit your Six Word Memoirs by April 30th
Co-Sponsored by: UCI Illuminations, UCI Humanities Center, Center for Critical Korean Studies, UCI Libraries, Critical Inquiries for Multilingualism, Program in Global Language & Communication, AAPI Womxn in Leadership
For more information, please contact Judy Wu (j.wu@uci.edu)