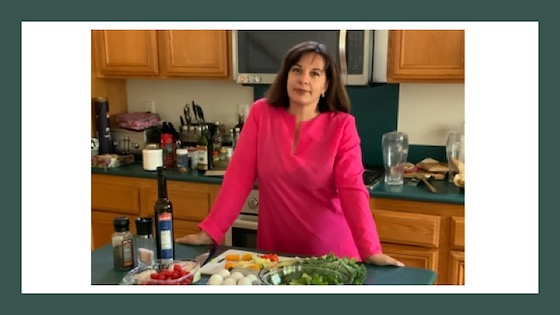 What's Cooking? Cooking with the professor in the time of coronavirus
Annalisa Coliva, Professor of Philosophy and Chair of the Department, starts a YouTube series on cooking Italian recipes.

"Cooking is where everything comes together, for me. Skill, phantasy, health, care, culture are all mobilized in those few minutes, sometimes hours, I dedicate to cooking for my household....
Inspired by the "Cooking with the professor" series, initiated at UCI by Yong Chen and Julia Lupton, who kindly invited me and my husband, Marco Panza (Professor at Chapman and at CNRS in Paris), to run a session back in February, I thought of turning it into a daily appointment with students and friends all over the world. At a time of forced seclusion, we need to stay connected more than ever. We need to create new routines and a sense of purpose. That's how the series of videos "Cooking with the professor at the time of coronavirus" came about.
In the videos, I demo Italian recipes. I choose simple ones that anyone can easily reproduce at home. These recipes are typically not very expensive and often slightly varied from the original ones, if I can't find all ingredients at the grocery store. In the demo, I reveal some secrets about Italian cuisine. For instance, that "Spaghetti alla Bolognese" do not exist, that "Pasta alla carbonara" is never made with cream and that olive oil is the fattest condiment there is and has to be used sparingly. I also talk a lot about the benefits for our health and pockets of cooking at home. We can use much less sugar and salt or minimize fat ingredients. And we can relax and take our minds away from daily worries and the preoccupations we all have regarding our – personal and collective – fate at the time of the pandemic.
Sometimes Marco joins me as a guest star. Sometimes my kids, Leonardo and Maria Elisa, join me as helpers. They are out of school until the end of the school year, and particularly the little one has still to find her balance during these long days at home. I hope their enthusiasm for cooking and life may help alleviate the sense of precariousness and loneliness people are experiencing, if only for a few minutes a day. You can watch the videos on
UCI Media's Youtube
channel. I will even have guest cooks who will be joining me in upcoming episodes.