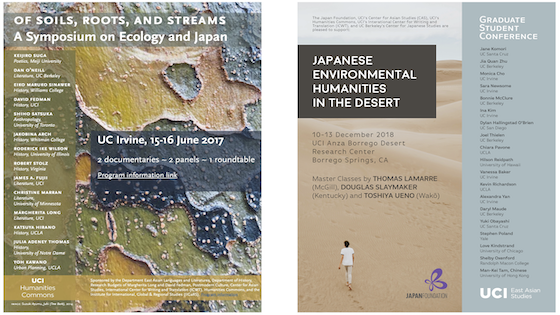 Sustainable Japan
The Japanese Studies Research Cluster was founded in 2016 to strengthen UCI's commitment to the study of Japanese Environmental Humanities. Click to learn more!
We began with a June 2017 Symposium "Of Soils, Roots and Streams: On Ecology and Japan," with 14 scholars from the US, Canada and Japan presenting on history, literature, anthropology, and geography. We followed up in December 2018 with a graduate conference and series of master classes called "Japanese Environmental Humanities in the Desert," a retreat to UCI's Anza Borrego Desert Research Center with 19 graduate students and 6 faculty representing universities in Hong Kong, Canada, Japan, and the US.
In Spring 2020 we will host our third event, "Dirt." It will begin with a one-day symposium "Dirt & Borders in Japanese Contemporary Art" on 21 May 2020, when scholar Hayashi Michio and artist Kawakubo Yoi will visit Bert Winther-Tamaki's spring graduate seminar. "Dirt" will culminate with a 3-day meeting of the Trans-Pacific Workshop from 5-7 June 2020, with 10 professors from Tokyo and 15 from Southern California joining 20 Southern California graduate students to discuss soil, agriculture, filth, abjection, and resource extraction.
In April 2018 we were awarded a 4-year $323,000 Institutional Project Support Grant from the Japan Foundation. This funding supports the mission of the cluster with 1) the hire in East Asian Studies beginning January 2020 of Assistant Professor Jon Pitt in Japanese literature and cinema, 2) recruitment, summer language study, summer research, and dissertation language fellowships for 2-3 Ph.D. students annually and 3) funding for our annual international Eco-Japan symposium.
Members of the Japanese Studies Cluster include
David Fedman, History
Susan Blakeley Klein, East Asian Studies
Margherita Long, East Asian Studies
Jon Pitt, East Asian Studies
Tara Rodman, Drama
Serk Bae Suh, East Asian Studies
Elizabeth Tinsley, East Asian Studies
Bert Winther-Tamaki, Art History
To join, and for news of our events, please contact Professor
Mimi Long
.