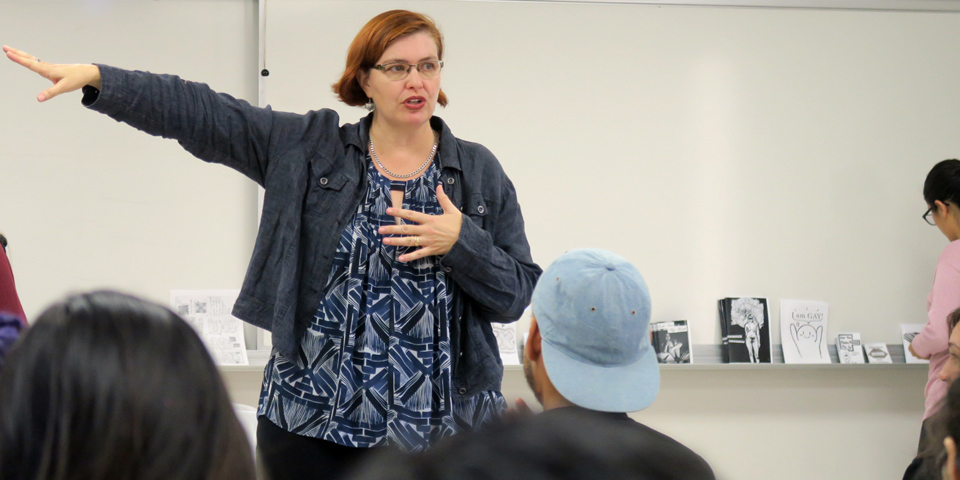 Faculty
Our faculty is on the front-lines of education; they are the direct link to our students. The School of Humanities has world-class intellectuals in every department. These professors shape, inspire and encourage our students to become today's global citizens. Cultivating critical thinking and curiosity within their students, our faculty members are compassionate, engaged instructors who provide the very best liberal arts education within a premier public university.

Endowed chairs enable the School of Humanities to attract, retain, and honor distinguished faculty who profoundly enrich the educational experience of undergraduate and graduate students. They are among the highest honors that can be bestowed upon a faculty member for proven excellence in their field of expertise. Through endowed chairs, esteemed scholars receive recognition for past and potential achievements in their fields, and the satisfaction that the University supports research and quality teaching in their discipline.

An endowed chair provides a financially stable source of funding to support teaching, research, and service. Students are challenged and guided by exposure to the highest quality academic leadership.

Donors who generously endow chairs ensure academic excellence in teaching and research today, and invest in the future of scholarship in a truly meaningful way. Endowed chairs are living memorials, perpetuating the donor's name, signifying a permanent commitment to educational excellence.

How Does Funding an Endowed Chair Make a Meaningful Impact?

An endowed chair is a fund that supports a university professorship or other faculty position. The annual interest from the endowment provides the chair holder with resources for teaching, travel, and other related activities to their field of expertise. Endowed chairs are the hallmark of a great university and help us to recruit, retain, and reward the finest scholars. For more information on endowed giving, please contact Sean Fischer, Director of Development, at 949-824-0438 or seandf@uci.edu.
Donor Spotlight
The Maseeh Chairs in Persian Studies and Culture

The Maseeh Professors were made possible by a principle gift from Fariborz Maseeh and the Massiah Foundation. In addition to their academic appointments, the Maseeh Professors are also integral members of the Samuel Jordan Center for Persian Studies and Culture, also established by Fariborz Maseeh and the Massiah Foundation. The Samuel Jordan Center for Persian Studies and Culture serves as an umbrella organization for various activities related to the study of Iran and the Persianate world at UC Irvine. It is one of the first centers of scholarship in this field.

Touraj Daryaee serves as the Maseeh Chair in Persian Studies and Culture and is also the Director of the Jordan Center; Nasrin Rahimieh holds the Howard Baskerville Professor in Humanities; Hossein Omoumi is the Maseeh Professor in Persian Performing Arts; and the future chair-holder of the Ferdowsi chair will be a scholar of Zoroastrian Studies. For more information about Persian Studies at UC Irvine, please visit the website.

The Anne Walthall Endowed Chair in Pre-Modern Japanese Studies

Anne Walthall, professor emerita of history at the University of California, Irvine, dedicates her scholarship to 17th century Japan. To ensure the field's longevity at UCI, she has pledged to fund an endowed chair in pre-modern Japanese studies through her estate. This $2M legacy gift will grow Japanese studies at UCI by creating a dedicated and permanent full-time faculty position in this area. It will ensure that the study of Japan is further enabled and enriched by a dedicated scholar committed to the study of Tokugawa Japan (1603-1867) or an earlier period.

Of her gift, Walthall says, "I wanted to do what I can to encourage the study of Japan because it is important for our relationship with East Asia but more importantly because it can teach us how this society, so different from our own, has evolved over time and created a historical identity that continues to resonate in the present. I'd like to attract more graduate students and see Japanese studies flourish at UCI."
Make a Gift