Humanities Mentor Program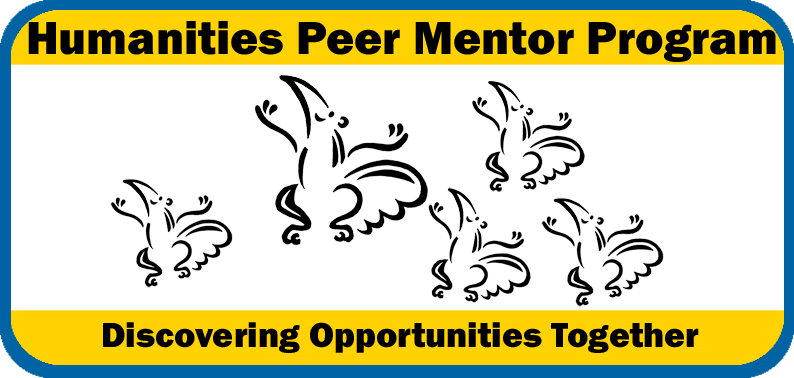 WHAT IS THE HUMANITIES PEER MENTOR PROGRAM?

The Humanities Peer Mentor Program is designed to help newly arrived freshpeople majoring in the Humanities settle into life at UCI and introduce them to the myriad of opportunities the campus has to offer.

Small mentor groups of 4-7 freshpeople meet once a week for an hour in Fall and Winter quarters with a successful upper-division Humanities major to explore the campus and the School of Humanities. Many of the mentors took part in the program when they were freshpeople.

The new students will discover what is unique about a research university, learn to navigate the campus, and uncover some of its secrets. They will find out where to get good advice for addressing any number of potential challenges. They will also learn how to get to know faculty and make the most out of their classes. They may attend workshops, lectures, film screenings, sporting events, visit art exhibits or go out for a meal, depending on the interests of their group. A priority will be to start taking advantage of available opportunities for involvement and leadership. And the mentees will get to know a small group of other new students really well along the way.

Mentees earn two units of P/NP only credit for their participation in Fall and in Winter quarters. In addition to the weekly meetings, mentees write weekly journals in which they express ideas and raise issues for their mentors and take part in one whole group workshop each quarter.

Mentors earn four units of P/NP only credit in Fall and in Winter quarters. Mentors plan activities and lead the weekly hour-long group meetings. The mentors also meet together for 1-½ hours a week in Fall to discuss readings about mentoring and to share ideas. They write biweekly journals in the Fall and a 5-7 page paper on some aspect of mentoring at the end of Winter quarter. They design and participate in one whole group workshop each quarter. Being a Humanities peer mentor is a great leadership opportunity.
WHO ARE THE MENTEES?

The mentees are the new first year (freshpeople) participants in the program.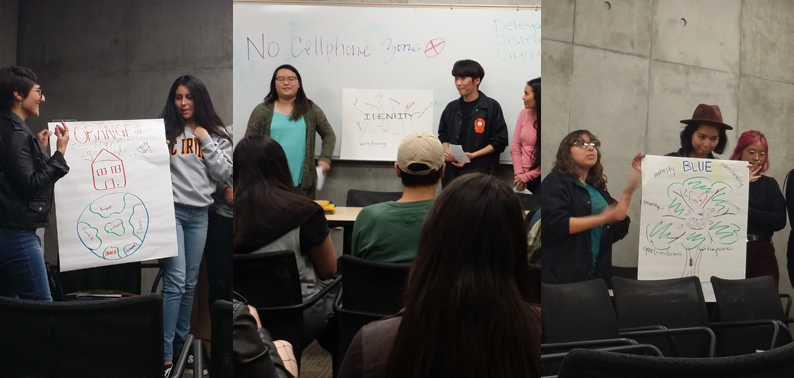 This is what a few of the mentees have said about the program:

"My mentor group went on a lot of interesting adventures together. We got to learn a lot about the resources on campus that I had never known about before. We also got to go in the UCI tunnels which was awesome."

"…My group was full of diverse individuals of different races, religions, and sexualities but we had one thing in common: we enjoyed humanities; this included reading, writing, and art. We came together and learned a lot about each other and it was a great experience."

"In the beginning of the program we were all very quiet and it took a lot to get us out of our comfort zones. Over time we began to get closer, we began interacting…and we began forming the bond of friendship. We walked around campus together, explored resources, visited each other's dorm rooms and talked about ourselves to each other and opened up."

"[My mentor] was extremely nice and helpful. He effectively connected with all of us and was very cool."

"Our mentor group was very diverse. I think our group dynamics were really good and we all got along very well. We did things like visit an art museum and talk about Humanities Core. I enjoyed going to get lunch with the [people in my group] and just talking to them during meetings. We always shared our highs and lows from the week as well."

"[My mentor] is really kind and looks out for our needs both educational and personal. I feel like I learned many things I wouldn't have been able to without her…She gives us really good advice even though she admits to not being perfect, she has made a point to help us not make the same mistakes."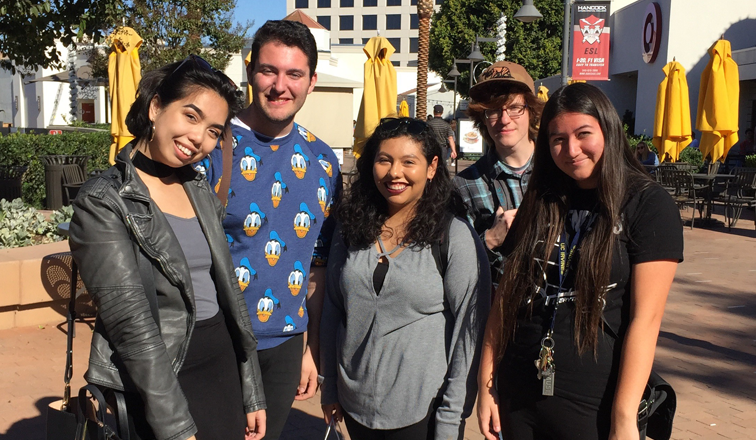 Back to top
WHO ARE THE MENTORS?

The mentors are successful juniors, seniors or super-seniors who are majoring in Humanities and who have a special interest in sharing what they know about the UC Irvine campus and the surrounding area with new students.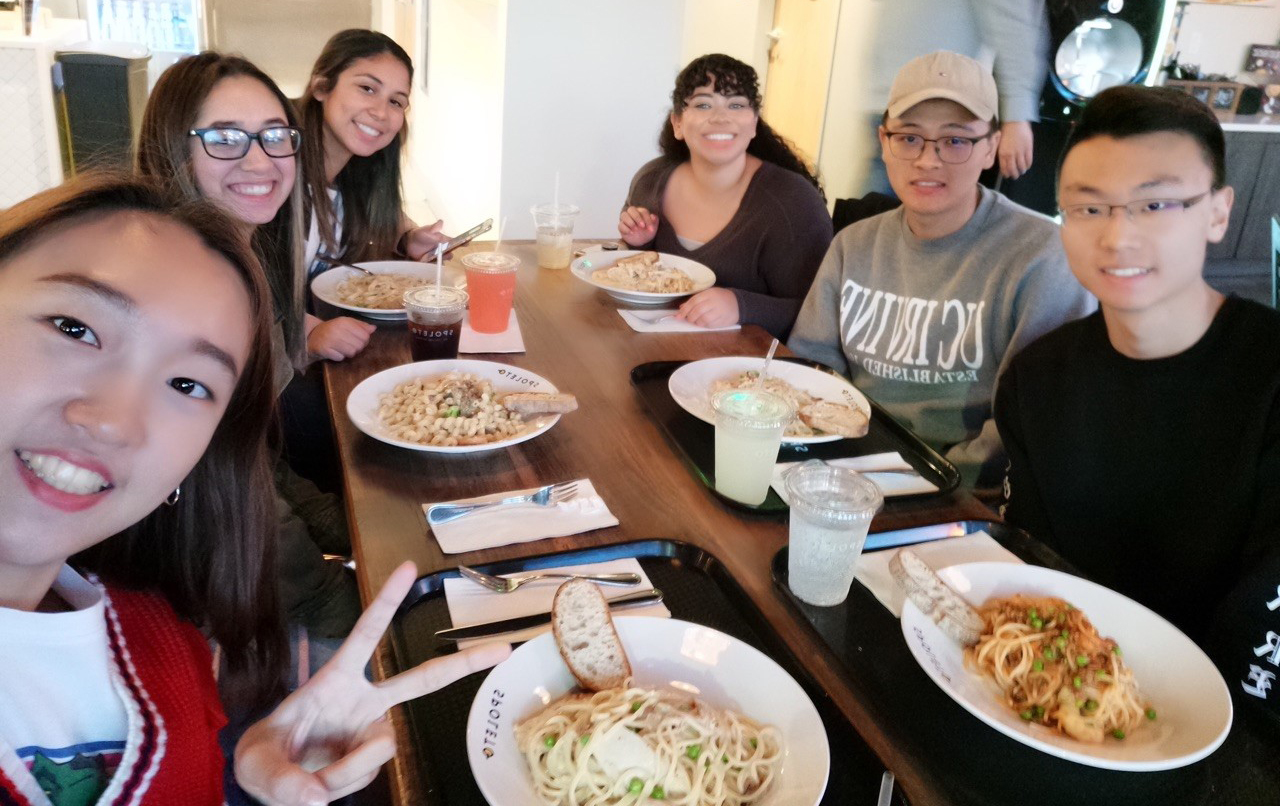 This is what a few of the mentors have said about the program:

"The most rewarding aspect of the program would be gaining the confidence of a leader and knowing I have help shaped future leaders."

"I really liked reading my mentees' journals every single week because it gave me a chance to get to know them. I also really liked the friendships I made with each of my mentees as well as spending time with them in and out of the program. I also really enjoyed hanging out with and getting to know the other mentors and discussing our groups with each other."

"The most enjoyable aspect of the program was the relationships I built with my mentees."

"Watching my students grow over the course of their first two quarters at UCI was definitely the most rewarding part of the program. My mentees are very involved in campus, in clubs, academic societies, have part-time jobs and are planning to study abroad. Compared to the very timid students whom I met in Week 1, who were worried they didn't belong at UCI, it was a night and day difference. I am very proud of them and everything they have accomplished in their freshman year and will accomplish in their next few years at UCI."
Back to top



HOW TO APPLY TO BE A MENTOR

For students interested in applying to be a Humanities Peer Mentor, the application is available in mid-April for the following Fall and Winter. It will be available on this website as a fillable pdf. The general requirements to be a mentor include:
Being a Humanities major
Being a true junior or senior (two years of college completed)
Having a 2.7 of higher overall GPA
Having good ideas about how to introduce new students to life at UCI
For a full list of requirements, read the mentor recruiting flyer posted on the website during each application cycle with the application.
Back to top
Frequently Asked Questions
• How do I sign up to be a mentee?
You have to be a brand new Fall quarter freshperson to sign up. Look in the Welcome Week schedule and find the Humanities Peer Mentor Program Mentor/Mentee Match-Up. It typically takes place on the Wednesday of Welcome Week in the early afternoon. Come to the Match-Up, ask questions about the program if you have them, and then join a group. Welcome Week can be hectic, so If you miss the meeting, email Lisa Payne-Miller to get assigned to a group.
• I was not a mentee in Fall. Can I join the program in Winter?
Unfortunately, no. You must have been enrolled in the program in the Fall in order to take part in the program in the Winter.
• Can I be a mentor more than once?
You are only allowed to be a Humanities peer mentor one time for 2 quarters, a Fall and the following Winter.
• I was a mentee this year and loved the program. Can I apply to be a mentor in the program next year?
We love to have former mentees apply, but you actually need to wait a year. Mentors must be true juniors or seniors (or super-seniors) which means you have to have completed at least two full years (6 quarters/4 semesters) of college before you are eligible to be a mentor.
• I don't meet the GPA criteria but I really want to apply. I know I would be a really great mentor. Should I bother to fill out the application?
Please do apply! If your application is strong in other ways you will definitely be considered and could be chosen as a mentor.
• How many mentors are there each year?
Normally 6-8.
• How big is a typical group?
We aim to have groups of about 4-6 new freshpeople and a mentor. Some groups have been as small as 2 mentees and a mentor and as large as 9 mentees and a mentor. We do try to avoid both extremes though!
• How do I pick a group? Do I get to choose my mentor or am I assigned to a group?
At the Mentor/Mentee Match-up you actually pick a group by picking the time you can meet. Only later do you find out which mentor will be leading your group. We find this method best for scheduling and you get to meet a more diverse group of fellow mentees that way.
• Can I change groups in the middle of the program if the time I am available changes?
It is too disruptive to group dynamics to change who is in any given group after the groups really get going. Remember that this is a class for which you are earning units and you should try very hard to make this commitment a priority.
• Will I get GE credit for being part of this program?
No, but the mentees earn 2 units of P/NP only credit in Fall and in Winter, and the mentors earn 4 units of P/NP only credit in the Fall and in the Winter for taking part in the program.
• Can I be a Peer Academic Advisor and Humanities Peer Mentor at the same time?
Actually no, you can only hold one of the positions at a time. We have had people do both but in different years.
• I am not currently in the School of Humanities but I am going to change my major to Humanities soon. Can I still apply to be a mentor?
It depends. You must have been a major in the School of Humanities for at least three quarters by the time the program begins in September.