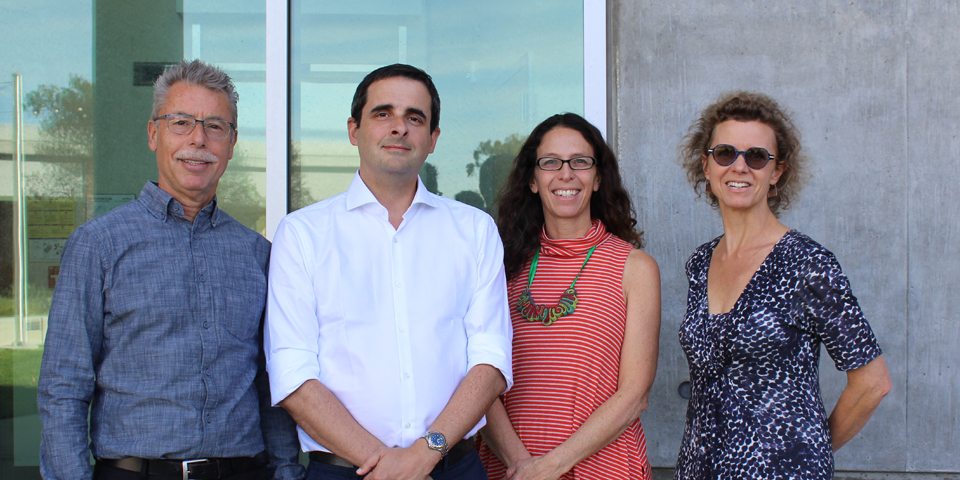 Academics
UCI Humanities can be described in four connected areas of teaching and research:
• Global Cultural and Historical Studies opens a gateway to the wider world and a window to the human past
• Languages, Literature and Media help our students understand stories and images that express the human experience
• Human Dimensions of Science and Technology asks the ethical, historical and aesthetic questions behind scientific and technological breakthroughs
• Philosophy and Critical Theory Cultivates logical and critical thinking – essential skills for an age of complexity and change
The School of Humanities embraces the responsibility of providing an education that matches the many talents of its outstanding students. We respond to the needs of students in a new century in many ways – from integrating theory and practice to developing interdisciplinary programs, to preparing students for their professional careers through internship programs. Your generosity will help us strengthen existing programs and develop new ones, with the goal of enabling our students to become leaders in their chosen fields and thoughtful, engaged citizens of their community, nation, and world.

The School of Humanities is home to more departments, centers, and programs than any other School on campus and engages faculty from diverse disciplines in advanced research. This diversity resonates within units as well, with faculty engaged in not only different areas of scholarship but also with cross-collaboration across other Schools within UC Irvine.

These interdisciplinary lines of investigation enhance knowledge and embrace student interaction through an intimate culture of discussion, debate and reflection.

How Does Funding Academic Units and Programs make a Meaningful Impact?

Discretionary funding from donors can have a profound impact on an academic program; it has the ability to elevate the program to a new level. This impact can come in a variety of forms, from campus-wide events such as conference and symposiums, to support in enhancing curricular programming and beyond. Donating to academics can create or contribute to new and emerging areas of study. For more information on how to make an impact at the School of Humanities, please contact Suzi Weaver, Development Analyst, at 949-824-1605 or suweaver@uci.edu.
Donor Spotlight
UCI Center for Critical Korean Studies (CCKS)

Drawing from existing faculty strengths in Korean studies, the University of California, Irvine launched a Center for Critical Korean Studies (CCKS), funded by the Academy of Korean Studies and the Ministry of Foreign Affairs in South Korea.

In response to a surging interest in contemporary Korean popular culture and society among students and, the Center hosts a number of innovative interdisciplinary programs, provides research grants for cutting-edge book monographs and essays, hires leading postdoctoral students in critical Korean studies, and invites scholars from around the globe to share their research with a robust UCI Korean studies faculty cohort.

In addition, the Center is a hub for the production of Korea-specific critical theory as it relates to race, borders, ecology and contemporary popular culture and promotes activities geared towards learning to read and write Korean, thinking critically about Korea's relationship to the world, and developing a deeper historical understanding of Korea.

To learn more about CCKS, please visit: https://www.humanities.uci.edu/criticalkorean/
Make a Gift