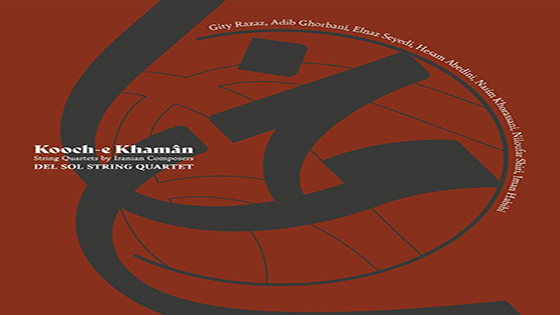 Spotlight Detail
CD Publication by UCI Jordan Center for Persian Studies
Release of Kooch-e Khaman, the Live Concert Recording of the Del Sol String Quartet with Young Iranian Composers
Dr. Samuel M. Jordan Center for Persian Studies and Culture
at
UC Irvine
is proud to announce the release of
Kooch-e Khamân
, the live concert recording of the
Del Sol String Quartet
performing compositions by young Iranian Composers including UC Irvine PhD students. Kooch-e Khamân—Kooch = migration and Khamân = bow—is a sonic representation of young Iranian immigrants who have been exploring various cultures in their journey as musicians and composers living in various countries outside of Iran. In this album the renowned Del Sol String Quartet gives life to works by
Gity Razaz
,
Elnaz Sayadi
,
Nasim Khorassani
, and
Iman Habibi
as well as UCI PhD students,
Hesam Abedini
,
Adib Ghorbani
, and
Niloufar Shiri
. All the pieces were written specifically for premiere performance in a concert held during a residency by the Del Sol String Quartet at the
University of California, Irvine, Claire Trevor School of the Arts, Department of Music
in February 2019. This rare project was co-produced by our own UC Irvine PhD student Hesam Abedini, Prof. Christopher Dobrian, and UC Irvine alumnus Alex Lough.
The album is now available on Amazon through the following link: (
https://www.amazon.com/Kooch-Kham%C3%A2n-Del-String-Quartet/dp/B08L2NLPL1
)
We would like to thank
Saman Foundation
for supporting this project as well as
UCI Illuminations
and all of our donors.
The Del Sol String Quartet is a leading force in 21st century chamber music. They are two-time winners of the Chamber Music America/ASCAP Award for Adventurous Programming, and they have been hailed by Gramophone as "masters of all musical things they survey." They have commissioned and premiered over 100 works from a diverse range of international composers, reveling in musical languages from Peru, Turkey, Spain, Iran and Uzbekistan. The Quartet has performed at prestigious venues around the world, including the Kennedy Center, Library of Congress, Smithsonian Museum and National Gallery of Art, the Davos and Hirzenberg Music Festivals in Switzerland, and the Chengdu Festival of Contemporary Music in China. They also have worked closely with student composers and performers at Dartmouth, MIT, Brandeis, University of California, Peabody Institute, Manhattan School of Music, and San Francisco Conservatory of Music.
Tracks:
1. Road to Hana, Gity Razaz
2. Gol-hāy-e Ghorbat No. 0 (The Flowers of Nostalgia No. 0), Adib Ghorbani
3. über/unter druck, Elnaz Seyedi
4. String Quartet II, based on a poem by Fereydoon Moshiri, Hesam Abedini
5. Rock Cloud, Nasim Khorassani
6. Sarāb, Niloufar Shiri
7. Revolution Street, Iman Habibi
Del Sol String Quartet:
Benjamin Kreith
Samuel Weiser
Charlton Lee
Kathryn Bates
Produced by Christopher Dobrian, Alex Lough, and Hesam Abedini
Engineered and mastered by Alex Lough
Graphic design by Kourosh Beigpour