Tentative Conference Schedule and Conference Flyers

FRIDAY APRIL 3RD
8:00 :: Registration, Breakfast, HIB 135

8:30 :: Opening Address, Ackbar Abbas

9:00 - 10:30 :: War and the Politics of Crisis, HIB 135
Robert Wood, "Aesthetic and Crisis: Brecht's Approach to the Construction of the Popular"
Brenda Sanfilippo, "Forging Identity, Narrating Destruction: Ernst Junger's Early War Literature"
Erin Hourigan, "The Problem of Secular and Divine Authority in Early Weimar: Karl Barth's The Epistle to the Romans and Alfred Döblin's Wallenstein"

with faculty respondent David Pan
10:30 - 12:30 :: Dis-ease, HIB 135
Victoria Blacik, "From Disinfection to Saneamiento: State Modernization in the Context of the 1918 Influenza Epidemic in Spain"
Larrah Feliciano, "Rhetoric and Epidemiology: Drug-resistant Tuberculosis and How the Fear of Contagion Informs Popular Account"
Jieun Lee, "Democracy of the Living Dead: Politics of Mad Cow Mobilization in South Korea"
Maryam El-Shall, "The Marketing of Madness"

with faculty respondent Adriana Johnson
10:30 - 12:30 :: Confronting Otherness, HIB 137
Alex Benson, "On Alternating Wives: 'The Problem of Old Harjo' and Cultural Particularism"
Juan Buriel, "Chicana Identity Crisis: Expectation and Statement in John Rechy's The Miraculous Day of Amalia Gumez"
Stephanie Shea-Akers, "The Intersection of Crisis and Cultural Expression"

with faculty respondent Nasrin Rahimieh
12:30 - 2:00 :: Conference Recess
2:00 - 3:30 :: Temporality and Intelligibility, HIB 135
Jerry C. Zee, "Crises of Stability: Temporality and Human Species-Action"
Rob Schoenbeck, "Code and the Crisis of Time: Aspects of Temporality in Net Art"
Brandon Granier, "Crisis of Ideology: Overdetermination in de Man and Marx"

with faculty respondent Rei Terada
3:30 - 5:00 :: Uses of Memory, HIB 135
Toshiaki Komura, "Elizabeth Bishop's 'First Death in Nova Scotia': Memory, Forgetting, and the Function of Elegy in a Moment of Crisis"
Robert Nathan, "The Double Bind of Migration: The Crisis of Memory and Forgetting in Fatou Diome's Le Ventre de l'Atlantique"
Wessam Elmeligi, "Cultural Memory or Cultural Rebirth? Crisis Narrative in Mohja Kahf's The Girl in the Tangerine Scarf"

with faculty respondent Annette Schlichter
5:00 - 6:30 :: Keynote Address, HIB 110
Eleanor Kaufman, "The Economic, the Political, Derrida, and the Worst"

7:00 - 9:00 :: Reception, HIB 135

SATURDAY APRIL 4TH
8:30 - 9:00 :: Breakfast, Registration

9:00 - 10:30 :: State of Exception, HIB 135
Nasser Mufti, "The Fronts of Civil War"
Lorenzo Fabbri, "Topologies of the Exception. On Constitutional Fetishism and the Rule by Law"
James Adam Redfield, "Epistemic Violence: Thinking through Crisis with Amitav Ghosh"

with faculty respondent Rajagopalan Radhakrishnan
10:30 - 12:30 :: Representations of Crisis in the Media, HIB 137
Rachel Signer, "Whose Crisis is it? On Intelligibility Across Space and Time"
Elizabeth Bennett Hupp, "Picturing Amish Forgiveness"
Zach Blas, "Gay Bombs: Exploding Topologies of Queerness and Sovereignty"

with faculty respondent Dina Al-Kassim
10:30 -12:30 :: Crises and the Ambivalence of Language, HIB 135
Esther Peters, "'Against My Will': The Crisis of Language in Bohumil Hrabal's Too Loud a Solitude"
Sunny Xiang, "The crisis of 'Signifyin(g)': A qualification of Henry Louis Gates's reading of double-voicedness and/as double-consciousness"
Adam Shellhorse, "The Explosion of the Letter in João Cabral de Melo Neto's Morte e vida severina (1954-1955): Literature and Politics in Latin America"
May Alhassen, "Planting Olive Trees, Zaatar Seeds, and Hip-Hop Beats: The Reclamation of History, National Consciousness, and Humanity Through Narratives as Cultural Art Forms"

with faculty respondent Jane Newman
12:30 - 2:00 :: Conference Recess
2:00 - 3:30 :: Labor and Structural Violence, HIB 135
Bron Tamulis, "Neoliberalism, Structural Violence, and the Political"
M. Mather George, "Tiempo Muerto"
Jonathan Dettman, "Canary in a Coalmine: Two Decades of (Capitalist) Crisis in Cuba"

with faculty respondent Horacio Legras
3:30 - 5:00 :: Crises of Capital, HIB 135
Karl Dahlquist, "The im/Mortal Game of Crisis in Blade Runner; or, The Postmodern Prometheus"
Bharat Venkat, "Antipolitics of Crisis & The Secularization of Humitarianism"
Jeremy Busacca, "Capitalism in Crisis: An Analysis of the Media Frames and News Coverage from the 2008 Financial Crisis"

with faculty respondent Eyal Amiran
5:00 - 5:30 :: Coffee Break

5:30 - 7:00 :: Keynote Address, Humanities Hall 178

Paul Rabinow, "Crisis: Secession, Dissidence, Care"

7:00 - 9:00 :: Reception, HIB 135
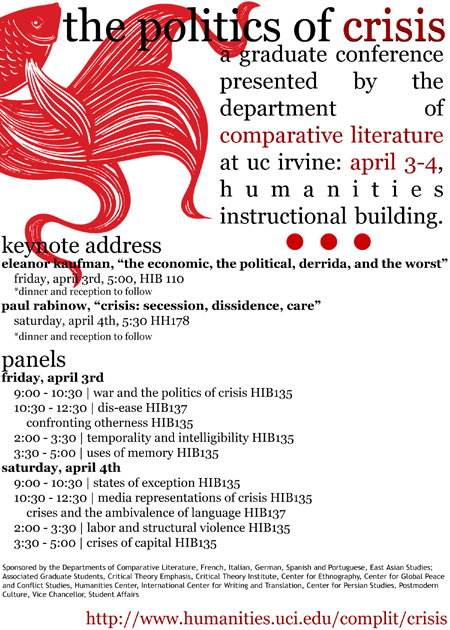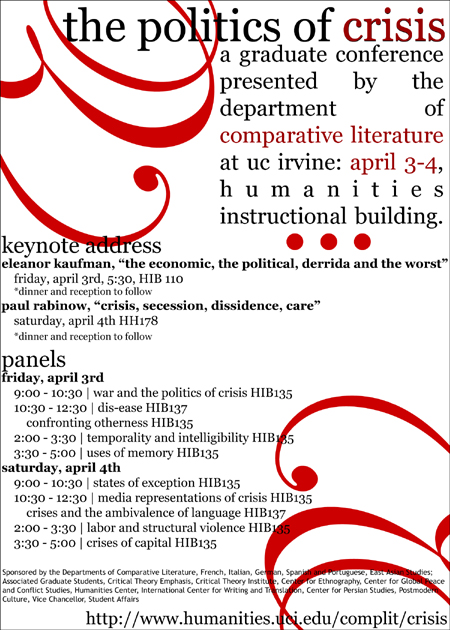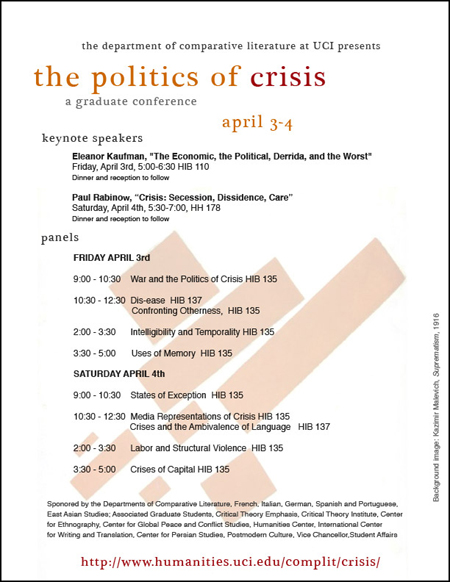 ABSTRACTS (alpha by author)
May Alhassen, M.A.
Department of Anthropology
Columbia University

"Planting Olive Trees, Zaatar Seeds, and Hip-Hop Beats: The Reclamation of History, National Consciousness, and Humanity Through Narratives as Cultural Art Forms"

I am concerned with how historical imperialism, in the form of media images and high school world history guidelines, writes Palestinians out of history and to look at the efforts made by Arab-American artists to use cultural art forms-hip-hop and spoken word-to counter the metanarrative on Palestine. As such, their art seeks to both write and right Palestinians back into historical consciousness. Furthermore, I am concerned with the ways in which these cultural art forms record and bring life and light to the plight of the oppressed in the construction of a narrative and how that art , in serving as a form of cultural resistance, aids in countering historical imperialism. Looking at the work of contemporary Arab-American artists, and their attempt to combat historical imperialism and to resist intellectual imperialism by recovering history, reconstructing national consciousness, and reclaiming humanity will be the focus of my paper.

Alex Benson, Ph. D. Student
Department of English
University of California, Berkeley
"On Alternating Wives: 'The Problem of Old Harjo' and Cultural Particularism"



This paper reads a 1907 work of short fiction in terms of an engagement with turn-of-the-century social-scientific thinking in the US. Placing John Milton Oskison's "The Problem of Old Harjo" in dialogue with Boasian anthropology (specifically, with texts like Boas's foundational essay "On Alternating Sounds"), I suggest the potential of regionalist writing—often taken as a fulfillment of the impulses of "salvage ethnography," doing the work of collecting and preserving vanishing local color—to critically engage assumptions of anthropological theory. Centered around a tension between conversion and bigamy (which, I claim, emerge in this text as opposed but isomorphic practices), Oskison's story situates its characters within an ethical double bind generated by cultural difference, by the dynamics of assimilation and alterity. Finally, it refuses to extricate them, abruptly ending with a blank expression of narrative crisis: "And meanwhile, what?"1 In this dead end, the text emplots precisely the kind of interpretive impasse that is built into the particularist concept of culture (the concept that Boas and his students are establishing, roughly coevally with Oskison's work, as a paradigm of anthropological theory and ethnographic method). The figure of Harjo, I argue, embodies certain "problems" of cultural difference so as to tests the limits of the epistemological framework that would define them as such.
Victoria Blacik, Ph. D. Student
Department of History
University of California, Irvine
"From Disinfection to Saneamiento: State Modernization in the Context of the 1918 Influenza Epidemic in Spain"


In 1918 the Spanish government flooded the streets of cities with disinfectant as a prophylactic measure against the growing influenza epidemic. Five years later, dictator Miguel Primo de Rivera proclaimed himself Spain's "iron surgeon" and initiated a process of saneamiento (literally cleaning-up) of the Spanish political system, including major improvements to Spain's public health system. These episodes of interventionist state actions represent departures from the ideology of classical liberalism, the foundation of Spain's Restoration political system (1875-1923), and steps toward the establishment of an interventionist modern state. As an episode of state interventionism in which state actions were charged with mortal significance, the influenza epidemic provides an ideal opportunity to examine the process and difficulties of the modernization of the Spanish Restoration state. The daily and medical press coverage of the epidemic demonstrates that the Spanish government failed to achieve the standards set by the literate public for an effective modern state. The state's failures during the epidemic contributed to the ongoing destabilization of the Restoration political system and encouraged journalists, doctors, and intellectuals to examine alternative political configurations. These commentators argued that government should be based on rational knowledge expertise over the current emphasis on personalized politics and patronage ties. Five years later, with the memory of the epidemic still fairly fresh, many of the same men praised or tacitly supported the authoritarian but modern and initially effective regime of Primo de Rivera.
Zach Blas, Ph.D. Student
Rhetoric & Center for New Media
University of California, Berkeley
"Gay Bombs: Exploding Topologies of Queerness and Sovereignty"



This paper traces a genealogy of the "gay bomb." Since its 1994 military proposal, there has been an explosion in visual culture of gay bombs. Importantly, however, there is a gap between the military's textual definition of the weapon as a "strong aphrodisiac" and popular culture's visualization of this bounded within the materiality of a bomb. How has a militarization of visuality instigated a proliferation of media that network homosexuality to bombs?


Importantly, another "gay bomb" has previously existed in queer cultures, a bomb not named as such but a bomb that explodes queer life into the world. Indeed, this celebratory "gay bomb" or queer bomb, mostly produced in underground or avant-garde art contexts, networks homosexuals with the threat—or at the moment of—explosion.


Historically, the homosexual has built a gay bomb but is now blown up by another. Thus, how has the networking of militarization and visual culture instigated a crisis by its co-opting of the history of a celebratory gay bomb into a subjugated homosexual weapon of the nation-state?

This paper reads two visualizations of the gay bomb: 1) its 2008 appearance on the television show 30 Rock and 2) its playful role in the 1986 music video Ask. At stake here is parsing out the homosexual's prior internalization of explosion and how this has become networked to a militaristic visuality, crystallizing into what we now know as the "gay bomb," which is undoubtedly a media bomb. I will argue that the US military's extraction and reformulation of a gay bomb previously located within queer cultures redistributes the homosexual as always-already-exploded. I conclude by examining the contemporary media art by Queer Technologies that reformulates the gay bomb as a political activist tactic to mobilize and defend queer communities.
Juan R. Buriel, Ph. D. Student
Department of Comparative Literature
University of California, Irvine
"Chicana Identity Crisis: Expectation and Statement in John Rechy's The Miraculous Day of Amalia GÛmez"

Rechy's The Miraculous Day of Amalia GÛmez constitutes what is arguably a work of Chicana literature produced by a Chicano author. Despite having been written by a male, the novel is replete with a Chicana protagonist and motifs expected of such works, including the protagonist's command of her feminine sexuality, her resistance to those patriarchal elements of her culture, and her exhibition of a mestiza consciousness. This unexpected genesis, however, throws into critical relief key gender elements expected to correspond in the constitution of Chicana literature as such: authorial gender and thematic or protagonist gender. Michel Foucault's notion of the "statement," elucidated in The Archaeology of Knowledge, proves helpful in understanding how more than mere anomaly or accident, this rather unique discontinuity in gender identity – that of the author and of the novel – can come to be read as an opportunistic event, a crisis, for Chicana literary discourse. For this very discontinuity shows that the novel's identity is not an essence, nor is it determined by an original authorial gender. Instead, Rechy's novel as Chicana literature is, in fact, a reasonable possibility given the text's general compliance with the rules or expectations of the discursive formation that is Chicana literature. Curiously, the novel's own Chicana protagonist, Amalia GÛmez, struggles recurrently not with obtaining signs of either secular or religious making (i.e. cloud formations resembling a cross), but more so with discerning the statements spoken by said signs that in retrospect define the signs' respective secular or religious identities – and thus, by extension, the identity of the implied author (earthly or transcendent in kind) of these phantom statements. Therefore, there is a homologous emphasis on reading the statements and origins of signs: Amalia's signs and the sign that is the novel itself.
Jeremy Busacca, Adjunct Assistant Professor
Department of Political Studies
Pitzer College
"Capitalism in Crisis: An Analysis of the Media Frames and News Coverage from the 2008 Financial Crisis"



In this paper, I will examine how the news media and journalists covered the financial crisis during this past fall. I am interested in how they framed the evolution of the crisis: what did they see as causing this crisis; to whom or what do they attribute responsibility; what kinds of actions, policies, groups, or institutions do they deem culpable; who is enabled to "fix" the problems; and most importantly, how do they describe or frame the activities of the free market and capitalism in these accounts? In other words, how do journalists come to understand the crisis and its relationship to free-market capitalism? I am also interested in the discussion of the bailout orchestrated by the United States Treasury Department and way it was covered by the news media. By examining both national and international news media including the New York Times, The Wall Street Journal, The Financial Times, and USA Today, I will show how this coverage either varied or cohered around a central dominant narrative of the crisis in which capitalism itself was essentially left out of the discussion. By understanding the phenomenology of the crisis, I hope to uncover our implicit beliefs in the free market as well as our propensity to shift blame and responsibility to agents other than "the invisible hand." In doing so, I also hope to show how markets are still mostly misunderstood and poorly described institutions contributing both to public confusion and misperception about how they operate and function.
Karl A. Dahlquist, Ph. D. Student
Department of Political Science
York University
"The im/Mortal Game of Crisis in Blade Runner; or, The Postmodern Prometheus"

In his Transcritique, Karatani argues that Marx's analysis of the commodity is first and foremost a Kantian "critique" of "national economics," that is, a transcendental critique examining the very preconditions of the formal structure of capitalist economy. Central to the im/mortality of capitalism is (the time of) credit, by which the inherent crisis of the "asymmetrical selling-buying position" is postponed indefinitely. If invited to Irvine, I will contrast Karatani to Kozo Uno's theory of the "inner logic" of capital/ism, in order to look for capitalism's telos in Philip K. Dick's novel Do Androids Dream of Electric Sheep? and its filmic hybrid, Blade Runner. Dick will be read as Heidegger's Hˆlderlin, the poet of the future (the prophet), and Karatani, as the thinker (Heidegger). Both film and novel present a virtual image of Los Angeles in the year 2019. The dominant mode of production of this dystopian universe is slavery. The slaves are not (born) human, but androids (machines). Psychoanalytically speaking, it is a universe without mother/s; reproduction is not biological (sexed), but technologically generated, a detail to which the film calls attention when a replicant kills a blade runner/analyst when asked about his mother, and in the patricide of the replicants Maker. Blade Runner allows for an autopsy of capitalism (mirroring that of the popular autopsy of communism). The paper will address the following questions: According to the logic of the film, Did capitalism die because of a failure or assault on the logic of capital, causing credit to fall short so that the crisis could no longer be postponed (Karatani)? Or was it because the pure logic of capitalism became fully realized at the expense of history (Uno)?
Jonathan Dettman, Ph. D. Student
University of California, Davis
Department of Spanish
"Canary in a Coalmine: Two Decades of (Capitalist) Crisis in Cuba"



The current global crisis, supposedly originating in the US housing sector, has dominated recent headlines. Some on the Left think this crisis means the end of capitalism. Others believe it is the death rattle of neoliberal market policy. What seems certain is that the current crisis is something qualitatively different, more profound and potentially damaging than any crisis since the Great Depression.



Cuba has been in crisis more or less continually since 1991. The loss of Soviet subsidies led to an initial 40% decrease in economic output. The crisis provoked severe shortages in energy, food, and consumer goods. When Cuba was forced to adopt the dollar as a second currency, already meager state salaries became worthless, and informal labor became commonplace. Doctors and engineers fought over jobs in Cuba's tourist sector, which was expanded as a politico-economic expedient. The crisis also forced an economic transformation: Cuba's industrial and agricultural economy became a service economy.



This presentation interrogates the Cuban experience and attempts to explain how, if at all, it foreshadows the current global situation. What does it mean that Cuba became a service economy, even while largely avoiding the neoliberalization often seen as the cause of this transformation? Robert Kurz's framework of "value-critique" will be used to explain capital's "internal limit to valorization." Films and texts from Cuba's so-called "Special Period" will illustrate the kind of "salvage economy" that may arise in the aftermath of the global collapse of finance capitalism.
Wessam H. Elmeligi, Ph. D.
Macalester College
"Cultural Memory or Cultural Rebirth? Crisis Narrative in Mohja Kahf's The Girl in the Tangerine Scarf"


The paper examines identity crisis for immigrants in the growing Arab American literary opus. Until recently, Arab immigrants to America were hardly noticeable as a single identity. Terms such as Native American, African-American, Chinese American were common for generations, whereas Arab American gained more prominence, ironically, after 9/11.


Mohja Kahf's novel The Girl with The Tangerine Scarf is an example of recent Arab American literature dealing with conflicts between memory and identity while merging within the cultural crucible. As a Syrian child immigrating with her parents to Indiana, her central character epitomizes the conflict between forging a new cultural identity for herself on the one hand, and embarking on a quest for her pre-American cultural roots. As a woman torn between American liberalism and Arab fundamentalism, she addresses the position of women caught between both worlds in a culture war. Growing up before and during the changing views about the Arab world, she represents new dimensions to traumatic immigration. Self-criticism, re-evaluating the other and confronting multi-faceted realities are expounded as means to disentangle the identity crisis and using it as a means of cultural survival for a younger generation of Arab Americans.



The paper attempts to shed light on the thematic structure as well as the narrative technique of the novel. The former tackles the emerging crisis literature of Arab Americans. The latter deals with Arab American writers trying to adopt a unique writing style in order to bridge the gap between two cultures. The result is an emerging crisis narrative worth studying.
Maryam El-Shall, Ph. D. Student
Department of Comparative Literature
University of California, Irvine
For this conference, I envision a paper that addresses the modality of change in psychoanalysis to posit that the psychoanalytic notion/diagnosis of mental illness has been grossly influenced by the marketing of "madness"--as per the huge rise in pop-psychology, self-help books and programs and, lest one forget, the plethora of new drugs for ever new "illnesses" marketed no longer just to clinicians, but directly to patients, constituting a crisis in naming. Thus the class or border of "mental illness" or ,to be properly Foucauldian, "madness" has come to include aspects of subjectivity that have simply been pathologized. Carefulness and caution are forms of OCD, activity and restlessness are ADHD and so on. The distress the individual experiences then is the result of the incongruity between what this commercial context tells him he should be and his own , "true" subjectivity.



The psychological squalor of civilization's mad no longer scandalizes us as it used to What we have instead is a crisis of names and representations of madness. Foucault's Civilization and Madness affirms that since the end of the eighteenth century it has not only become more acceptable to engage in the discourse of madness, but that the discourse itself has become a part of, embedded in, everyday speech. In other words, we speak of the mad and madness in all its forms when we speak at all. We implicitly uphold the discourse that singles out and separates--borders-- the mad from the sane when we consider what we say in common, social speech and then speak reflexively. What happens in that moment of reflection? The image of madness stares back at us. What we do not say. what we border, is thus just as important as what we do. The difference, then, according to Foucault, lies in the emergence of this moment around which the thought of the mad and madness itself lives in our everyday consciousness. In such a context then, can we speak of madness at all? Can madness in its true essence speak of its psychological pain? Is this a moment of linguistic or existential crisis?
Lorenzo Fabbri, Ph.D. Student
Italian Studies
Cornell University
"Topologies of the Exception. On Constitutional Fetishism and the Rule by Law"

In my presentation, I will discuss three different modalities of conceptualizing the relation between the state of exception and the rule of law.

I will start with Bruce Ackerman who – in his 2004 "The Emergency Constitution" – argued for the necessity of granting the Legislative control over the state of exception. Ackerman's statutory reforms are designed to prevent the Executive from turning a transitional emergency regime into a permanent police state. The underlying assumption of his proposal is that the state of exception is something that – sometimes and somewhere – must be enforced to deal with crises that require the suspension of individuals' customary rights. Drawing from the recent revival of Carl Schmitt's thought, I claim that Ackerman's framework fails to recognize that the exception is not a limited experience, but the true condition for the functioning of a juridical order.

Following Adrian Vermeule's 2009 "Our Schmittian Administrative Law," I will show that any defense of classic legalism overlooks the inevitable existence, within a system of rights, of legal black and grey holes which always allow for the evasion of the rule of law. However, against Vermeule, I argue that law-free zones are not created by the judicial discretion inscribed in administrative law, but provoked by laws' necessary iterability. Inspired by Giorgio Agamben's description of the state of exception as the paradigm of government, I conclude that the spectacular exceptions granted to the Executive when real or fictitious crises transpire should not makes us overlook the micro-exceptions produced every time the meaning of a certain law is decided upon. For the oppressed, as Walter Benjamin suggested in his 1940 "On the Concept of History," the exception has always been the rule.
Larrah Feliciano, Ph. D. Student
California Polytechnic State University, San Luis Obispo
"Rhetoric and Epidemiology: Drug-resistant Tuberculosis and How the Fear of Contagion Informs Popular Accounts"



When the World Health Organization released a report in February of 2008 that cases of drug-resistant tuberculosis was on the rise globally, nearly every major news outlet jumped on the headline bandwagon—and nearly every headline capitalized on fear of pandemic. While drug-resistant TB is as yet far from pandemic proportions, news reports continue to pop up, fueling fear of contagion. The rhetoric in these popular accounts clearly play upon post-9/11 fears of bioterrorism. In 2002, for example, Rick Weiss writes in National Geographic that "tuberculosis is in an excellent position to wreak global havoc in the new millennium." Many other reporters employ similar rhetorical strategies to propagate fear in the public. The problem, however, is that the resulting fear is directed not just at this microscopic bacteria, but also at the people infected by it. While the majority of cases are found in middle- and low-income countries, in the United States the relatively minute percentage of TB cases are three times higher in foreign-born Americans than in native-born Americans. Such findings and reports exacerbate the fear of foreigners and further marginalize the immigrant population in the United States, potentially resulting in a renewed critical "fear of the other"—in this case, with the diseased foreigner as the marginalized subject. In my paper I examine the rhetoric of popular accounts, such as magazine and online articles, as well as media images, in order to problematize the depiction of the modern rise of TB as a foreign disease, and, thus, inherently tied to immigrants.
M. Mather George, Ph. D. Student
Department of Anthropology
University of California, Berkeley
The Cuban Constitution of 1976 guarantees economic development without crisis. In particular, it declares the elimination of a particular form of cyclical crisis built into the production of sugarcane in Cuba. Article forty-five of the Cuban Constitution bans the seasonal work stoppage known as tiempo muerto or dead time. Historically, tiempo muerto was a time when all production of sugarcane stopped. This lasted for several months each year and during this time both work and food were unavailable for the laboring classes.


What can we make of this attempt to prohibit crisis? In this paper I will explore this question from the vantage point of the declaration of the death of tiempo muerto in the Cuban constitution. The prototype of crisis that is being declared dead here is a cyclical work stoppage where key aspects of life (work and sustenance) are in a state of suspended time for a certain group of people. What relationship does the banning of tiempo muerto have to the declaration of the special period in Cuba after the collapse of the Soviet economy in 1990? The special period was also a time of extreme privations and hunger. What understandings of time are being invoked in terms of a historical engagement with the meaning of crisis that can be traced from the banning of tiempo muerto to a special period that was officially declared but never officially rescinded? In this paper I will examine these temporalities of crisis and revolution from fieldwork conducted in Cuba in the twilight of the special period and the rule of Fidel Castro.
Brandon Granier, Ph. D. Student
Department of Comparative Literature
University of California, Irvine
"Crisis of Ideology: Overdetermination in de Man and Marx"


It will perhaps seem curious to hear that Paul de Man cites Marx's The German Ideology in a lifework that would, at first sight, appear to bear little resemblance to that of the German philosopher. The German Ideology is a text that de Man occasionally cites, especially in reference to the "overdetermination" of the superstructure, or in the semiotic realm to which he imports this term, the structure of meaning. This borrowing of Marx's term is, however, not fortuitous, as Althusser himself distinguished the "overdetermined" nature of consciousness in Marx with the determined series of negations that Hegel espoused in his Phenomenology of Spirit. In my paper, I seek to trace out the development of this "overdetermination" of the superstructure/consciousness in the Hegelian-Marxist trajectory in order to illuminate more clearly the conception of ideology in de Man, who accords an undecidability to the vary "material" nature of consciousness. This materiality of consciousness--which de Man was so instrumental in elucidating--appears, as such, as a strong echo of Marx's German Ideology (in which, for example, "language is as old as consciousness, language is real consciousness that exists for other men as well, and only therefore does it also exist for me" (Marx's emphasis 44). My paper seeks to examine the crisis at the very heart of consciousness--that is, at the heart of language--and characterizes this crisis as one of overdetermination and undecidability.
Erin Hourigan, Ph. D. Student
Department of German
University of California, Irvine
"The Problem of Secular and Divine Authority in Early Weimar: Karl Barth's The Epistle to the Romans and Alfred Döblin's Wallenstein"



This paper examines two modes of political theology resulting from the German experience of World War I and their aesthetic and political consequences. The modes are found in Karl Barth's The Epistle to the Romans (1922) and Alfred Dˆblin's novel of the Thirty Years' War, Wallenstein (1920). The paper shows the limitations of a practical application of Barth's mode and highlights the ways that Dˆblin employs the genre of the historical novel to discuss contemporary issues, situating both works within the intellectual landscape of the Weimar Republic. It treats the novel as a reflection of Germany's tumultuous situation during and after World War I, in which competing figures of authority vie for power and legitimation. Discussion focuses on the figure of Holy Roman Emperor Ferdinand the II, whose struggle to reconcile his political duties with his religious beliefs leads to his disintegration. Ferdinand's figure is set in opposition to the problematic notion of state authority described by Barth, which allows for one central, recognized, and smoothly functioning governing body or official. It concludes that while Dˆblin indicates that the political determines or even undermines the theological, Barth, who urges Christians to reject liberal notions of freedom and ethics, but to do so within the limits laid out by state, maintains that the theological should determine the political and that the crisis of history has proven all models of earthly authority to be equally corrupt. This pairing embodies the opposition of religious and secular modes that were blurred by bourgeois liberalism.
Elizabeth Bennett Hupp, Ph. D. Student
History of Art
University of California, Berkeley
"Picturing Amish Forgiveness"



In the weeks after the Pennsylvania Amish schoolhouse shooting in 2006, American media coverage of the event shifted from the burials of the five young victims to discussions about the meaning of Amish forgiveness. For many around the world, the Amish community's forgiveness of Charles Roberts evoked mixed feelings of admiration and horror. While previous school shootings in the U.S. catapulted issues of gun control to the forefront of American culture, Roberts' execution of five Amish girls inside their one-room schoolhouse prompted a more intimate discussion about the role of forgiveness in times of crisis.



This paper explores interpretations of Amish forgiveness as it appears in and is provoked by photographs of the Nickel Mines shooting. While the event incited much public discussion about the possibility for national forgiveness (e.g. forgiveness of the perpetrators of September 11), the media's photographs did little to change mainstream America's views of the Amish. To a culture that "knows" the Anabaptist sect almost exclusively through photographs, the Nickel Mines pictures are unremarkably familiar. In order to situate the 2006 images in a context of American public response to crisis, the paper frames them as a culminating visual episode in a century-long history of legal dispute over Amish education. The paper then asks what the act of looking (at victims and those who mourn them) contribute to the viewer's own ability to forgive. The project expands current discussions of Amish forgiveness by identifying the photograph as a locus for enabling responses to crisis.
Toshiaki Komura, Ph. D. Student
Department of English
University of Michigan
"Elizabeth Bishop's 'First Death in Nova Scotia': Memory, Forgetting, and the Function of Elegy in a Moment of Crisis"



Elizabeth Bishop's elegy, "First Death in Nova Scotia," is known for its objectivist depiction of a child-speaker's first encounter with an instance of death and her struggle to comprehend it. It is precisely in this objectivist, understated tone of the poem that critics have identified a representational, linguistic, and emotive crisis that the child-speaker faces. That is, the poem's willfully descriptive approach comes across as the speaker's refusal to delve into her interiority: a refusal that in fact reveals the trauma of witnessing a funeral-a disruption of what Wordsworth would call an unthinking childhood.


The present paper contends that the poem's avoidance of elegiac effusion not only communicates the trauma of this first encounter with death, but also creates an equivocal linguistic space where the traumatic experience is both exorcised and retained simultaneously. To this effect, the function of elegy becomes similar to that of note-taking: the act of externalizing the memory-such as writing it down on a note or, in this instance, recording it in a poem as a description devoid of subjective commentaries-facilitates a kind of "safe" forgetting where the memory is preserved in an external object, outside of one's subjectivity, and is kept from being lost entirely. The paper then extrapolates that memorials and gravestones serve the similar political function to that of elegy: a material reminder of loss that allows for both remembering and "safe" forgetting. The trauma of crisis imposes upon us, and aids our exploration of, this equivocal space.
Jieun Lee, Ph. D. Student
Department of Anthropology
University of California, Davis
"Democracy of the Living Dead: Politics of Mad Cow Mobilization in South Korea"



Last spring, there was a massive popular movement against a revised beef import deal between South Korea and the United States, which I would call mad cow mobilization. Fear and anxiety about the food safety was foregrounded in the beginning, but soon it became an anti-government. My ethnographic questions are; how can I account for this "political" scene around a seemingly "apolitical" issue, without reducing the singularity of an event; how can I politically write and think with this messy event?

In this paper, I focus on the senses of crisis around a felt and imagined reality of the mad cow disease epidemic. This paper attempts to explore what the senses of crisis do and do not tell us; what kinds of political debates are opened up, while some others are repressed. In this endeavor, I focus on the term koidam (meaning a strange story of the bewitched or ghosts in Korean) used by South Korean government to invalidate the protestors' claim, and a metaphor of "zombie" mostly used as a pejorative for the protestors by their opponents. I am using these terms to inhabit in the event highlighting the images of life and death prevailing around it. I will how it could be horror stories to different players (e.g., the state and "common people"), and how the crisis is felt and experienced, and how a certain way of questioning the present is still repressed.
Nasser Mufti, Ph. D. Student
Department of Comparative Literature
University of California, Irvine
"The Fronts of Civil War "

The goal of this paper is to mark out the boundaries and frontiers of civil war as a concept. If a civil war is a crisis of the nation-state, then what happens to the borders of that nation-state when the conflict arrives? If it is a national conflict, then is it legible to an outsider? In other words, what are the fronts of civil war?

This paper examines these questions through the figure of the peacekeeper in the midst of a civil war. Using a narrative by a British Officer, Sir Frank Noyce, written during the violence that accompanied the partition of British India, this paper will explore the limits of Noyce's perception and actions. Using the metaphor of disease, Noyce describes the violence as infecting all Indians exposed to it, while the British remain both immune to and the cure to it. Noyce's mere proximity to this contagion seems to instill peace, however, he is also always too late to enforce this peace as the violence constantly evades him. Constantly out of sight and just around the corner, the communal violence becomes unknowable to Noyce, thereby rendering the conflict around him into a truly fratricidal one: visible and legible only to those susceptible to it. Crucial here is that the argument is not that Noyce's narrative inflicts a textual and representative violence to the conflict, but that the very concept of civil war is one that is always already illegible to any outsider, and thus, is a production by the outsider to displace the conflict as being 'elsewhere,' and not within. In a word, the concept of civil war becomes a manifestation of the crisis of one's own national boundaries in describing the Other's national crisis.
Robert Nathan, M.A. Student
International Development Studies
Dalhousie University, Nova Scotia
"The Double Bind of Migration: The Crisis of Memory and Forgetting in Fatou Diome's Le Ventre de l'Atlantique"

This paper examines a narrative representation of the double bind of the migrant from the perspective of one of Senegal's most prominent female novelists, Fatou Diome. Through analysis of Diome's discussion regarding the double bind of identity, whereby the migrant is stripped of her original sense of home and belonging though changes in time and space and yet fails to develop a sense of 'home' in the receiving country, the concept of the crisis of the individual and her relationship to society is explored in the context of the international migration system. This identity problem is paralleled by a crisis of memory and forgetting, wherein the dislocated migrant paradoxically self-defines through memory and is at the same time compelled to forget the past and reinvent herself in the new society. Diome's representation of these problems is also analyzed in its relationship to neoliberal capitalist philosophy, in order to highlight the ironic similarities between Diome's views and this iteration of capitalism, largely responsible for the crisis of international migration in which she is caught. These analyses shed light on the double bind of the contemporary migrant, and also have implications for the study of memory, identity, capitalism, and crisis.
Esther Peters, Ph. D. Student
Department of Slavic Languages and Literature
University of Chicago
"'Against My Will': The Crisis of Language in Bohumil Hrabal's Too Loud a Solitude"

Bohumil Hrabal's idiosyncratic use of the Czech language has been the bane of his translators and a prodigious source of material for his critics. The cataloguing of Hrabal's linguistic oddities, especially his mixture of written and spoken Czech, has been used as a means of attempting to establish diverse and at times seemingly conflicting features of his work from the 'literariness' of his style to his connection to the Czech underground because of his deep connection to the spoken language. The intermixing of linguistic registers in Hrabal's work is revelatory a more significant relationship with language. It is a relationship that is based in conflict and crisis. Through a discussion of register variation and storytelling the paper hopes to show how the novel is a product of a crisis or tension in language.

This paper seeks to explore this crisis of language by examining how the various registers interact and conflict with each other throughout Hrabal's novel Too Loud a Solitude. In particular the paper focuses on a phrase "against my will" ("proti svÈ/sv_ vuli") that is repeated throughout the novel. This phrase is especially significant because it both reflects the intermixing of registers Czech and connects the language of the narrator, Hanta, to Hrabal's own discussions of language and storytelling. In particular this paper seeks to show how two main components of Hrabalian storytelling, a constant flow of words and an obsession by narration, form the basis of the conflict that causes the registers variation and the novel itself.
James Adam Redfield, Ph.D Student
Anthropology of the Contemporary Research Collaboratory
University of California, Berkeley
"Epistemic Violence: Thinking through Crisis with Amitav Ghosh"

This paper defines and applies a series of three terms to analyze key relational dynamics of contemporary political crisis: epistemic violence, contingency, and sovereignty. These terms are drawn from a reading of Amitav Ghosh's work, with particular reference to recent events in Mumbai and more generally to what Ghosh has called 'the twin terrors of insurgency and repression.' As Ghosh claims, these 'twin terrors' have symbiotically re-produced 'the narrative of the loss of paradise', a narrative which, under conditions of crisis, subjects have used to negate normative modern definitions of our terms above as well as to replace them with new definitions.



My argument is that this narrative provides a structure through which we can read a crisis, insofar as it pulls together our three analytic terms, scripts them to be variously interpreted and acted out by subjects, and releases their latent tensions during crisis events. This narrative negates and re-defines social contingency (affinity and uncertainty) as shared mythical origin, and sovereignty (the government of self and others) as veiled divine omnipotence. This two-step move (negation/affirmation) is mythically encoded within the narrative as a search for purity, which paradoxically relies on synthetic forms of naturalized sociality in the names of 'religion' and 'security'. In conclusion, I apply this reading strategy to highlight the salience of Ghosh's stance on the Mumbai crisis.
Ofelia Ros, Ph.D Student
Department of Romance Languages and Literatures
University of Michigan
"The economic problem of subjectivity"



In my paper, I explore cultural responses to Argentine economic crisis of 2001, which perform in turn their own crisis as culture. My work argues that what was in crisis in the collapse was not only political representation, but also the fixation of meaning in a particular mode of social order and cohesion. Most importantly, the denaturalization of economic and political authority, in a society skeptical of its laws and institutions, opened up the subversion of cultural significance.


Under that premise and taking into account 'economic' stemming from the root word 'oikos' or home, I argue that an economic collapse implies a crisis in a sense of Self, both national and individual. I analyze the economic problem of subjectivity, depicted in the Argentinean Arturo Carrera's poetry book, Potlatch (2004), exploring the delineation of crucial anxieties regarding: subjectivity and social exchange patterns.


In the figure of childhood Carrera's poetry denaturalizes the symbolic value of money making visible its raw material as metal, stone, paper or plastic. At the same time, he addresses social traditions and family habits that force infants into self-interest and appropriation making money the master of social relations. Therefore, childhood as a figure is not only conquered by, but also disrupts the logic of money as the giving and taking circle guided by self-interest, opening the possibility of imagining different exchange patterns within a subverted economy. As well as the economic crisis, it inaugurates the germ of subversion and the dilemma of a change.
Brenda Sanfilippo, Ph. D. Student
University of California, Santa Cruz
"Forging Identity, Narrating Destruction: Ernst J¸nger's Early War Literature"



World War I marks a profound crisis of the governing notion that presided over the constitution of the German state since Schiller. The latter had advanced the idea of an aesthetic state that could unite a fragmented world. This notion of the state collapses in the trench warfare and the sheer terror of mass destruction that marked World War I. Ernst J¸nger documents this collapse in his memoir Storm of Steel and shows that the values and processes described by Schiller are stripped away from the state and transferred to the individual soldier, replacing the aesthetic state with the aesthetic warrior. Yet this construct is too weak by itself, so J¸nger has to buttress it by importing the notion of honor as a sort of Kantian regulating idea that both governs and limits the self-creation of the soldier. J¸nger's revisions of his memoir during the Nazi period are indicative of the depth of the crisis to which he was responding, one whose effects are still resonating in the terrors of the present day.
Rob Schoenbeck, Ph. D. Student
Department of English
University of California, Irvine
"Code and the Crisis of Time"

This paper examines recent developments in digital literature criticism which present the source codes of digital texts as viable critical objects, and sees this moment as a crisis for a traditional hermeneutics of literature. The introduction of a "source" to the textual object—which both is and is not that object, which could be said (not without contention) to constitute its structure but not its actualization—is, insofar as it is also considered to be encompassed by the act of criticism, a bifurcation of that object which was previously thought to constitute some sort of whole. The consequences for the interpretive act are enormous, as this bifurcation interrupts the hermeneutic circle: instead of dealing with a subject's understanding of a single, unified text, we are now dealing with a subject's understanding of two incomplete texts which are yet the same. Achieving understanding of one text in some way illuminates the other, but the subject's appropriation of one does not entail appropriation of the other, and this contradiction may in some cases provoke the illusion of understanding rather than its actualization. Thoughtful criticism, therefore, must alter its temporal reality: the symmetry between time and the post-Heideggerian hermeneutic process, constitutive in Ricoeur's textual understanding, has been fragmented via the bifurcation of the object, and we are instead left with a deferral of understanding that ricochets between the two halves of what was previously whole. This conclusion is ironic, given the function source code is intended to perform as an historical transmission of ideas or tools and as a 'revealing' of the origin of software—in other words, it is intended as a defense against time and misunderstanding, yet it provokes a crisis in both by its very nature.
Stefanie Shea-Akers, Ph. D. Student
Humanities Division
Merced College
"The Intersection of Crisis and Cultural Expression in Native Hawaiian Women's Literature"



Beginning with Captain James Cook's "discovery" of the Hawaiian Islands in 1778, Native Hawaiians have been faced with a profoundly political, national, cultural, and ecological crisis that violently transformed their way of life and worldview. I am examining how Native Hawaiian women in particular address the devastating history of colonization in Hawai'i and how crisis inspires, as opposed to extinguishes, literary subjectivity as a means to reclaim lost heritage and to reimagine the Hawaiian identity. Queen Lili'uokalani's autobiography and music originated the Native Hawaiians women's literary tradition of asserting a political and cultural voice that recognized Native Hawaiian sovereignty. Hawaiian scholar, poet, and activist Haunani-Kay Trask continues that literary tradition by using her poetry and writing to decolonize Hawaiian literature, making it a space distinctly for Native Hawaiian voices. The two "hapa" women I am also discussing, Kiana Davenport and Kathleen Tyau, explore their biculturalism and multifaceted ethnic identity to affirm cultural innovation and continuance. All four women give a personal account of history from a Hawaiian women's perspective, engaging the crisis of American hegemony and colonization in the Islands and imagining a future where the legacy of patriarchal colonization and violation no longer enables marginalization. As they use their writing to cathartically move forward from crisis, the feminist and ecofeminist elements in their texts implicate women as active participants in history and agents of social change.
Adam Joseph Shellhorse, Ph. D. Student
Department of Spanish & Portuguese
University of California, Berkeley
"The Explosion of the Letter in João Cabral de Melo Neto's Morte e vida severina (1954-1955): Literature and Politics in Latin America"



João Cabral de Melo Neto's hybrid and much celebrated experimental poem/drama "for voices", Morte e vida severina: auto de Natal pernambucano (1954-1955) [Death and life severina: Nativity Play of Pernambuco] responds to what Cabral de Melo Neto often bemoaned in his letters as the "impasse of modern poetry" or the "abismo que separa hoje em dia o poeta de seu leitor"["the abyss that separates nowadays the poet from his reader"] in Brazil. This "impasse" concerned poetry as a genre ill attuned to the modern at the level of form, and at the level of content it signified for the figure of the poet author a desired yet absent or dubious sociopolitical place in the ever technified modern public sphere. However, it would be theoretically insufficient for us to reinterpret his poetic oeuvre as a bridging mechanism that sought to radically "popularize," "communicate political messages," or "make socially viable" his already marginal corpus and social position as a poet in Brazil. An alternative critical frame may be carved out from within Morte e vida severina if we follow its formal consequences to their explosive finale. In my paper I explore this constellation of political and literary problems from a closer reading of the poem as a project of form that powerfully responds to the crisis of the poetic letter in mid-century Latin America.
Rachel Signer, M.A.
Department of Anthropology
The New School for Social Research
"Whose crisis is it? On intelligibility across space and time."



"Crisis is often portrayed in the media as an event, or a series of linked events, that involve economic misfortune for certain groups of people and may be accompanied by violence and destruction. Journalistic accounts of crisis are meant to sensationalize events; this means that readers must assume that they live in a world that is normal most of the time. Moments when the world does not appear to be normal are labeled by editorial boards as "times of crisis." Ethnographic writing, on the other hand, provides accounts of "times in crisis" by portraying it as a lived-experience; this is conveyed to the reader through epistemological tactics meant to represent subjective viewpoints.

This essay will examine the ways journalistic and ethnographic texts represent crisis through time and place. I wish to argue that ethnographic writing, through subjective portrayals of crisis as a lived-experience, problematizes the idea of normalcy as a static state in which the world exists and instead portrays life as a dynamic process of normativity. Toward this end, we must think of crisis as an ongoing phenomenon that emerges in certain places and times through what has been called a regime of intelligibility (Mbembe/Roitman 339). In a regime of intelligibility defined by time and temporality as well as place and space, crisis is intelligible to different actors depending on where it is in the regime; thus crisis is always present and even inherent in the world-system, though not always empirically evident.

Keeping in mind these two axes, time-temporality and place-space, I will look at news articles and ethnographies that discuss situations of extremity using the word "crisis". I will question how these texts represent crisis spatially and temporally. The ultimate question here is: whose crisis is it? As an idea characterized by journalistic, theoretical, and ethnographic writing, for whom is "crisis" productive and for whom is it intelligible?"
Bron Tamulis, Ph. D. Student
Department of Political Science
University of California, Irvine
"Neoliberalism, Structural Violence, and the Political"

Contemporary neoliberalism is based on the idea of separating the economic from the political, rendering economics an autonomous domain isolated from political sovereignty and thus from the governing will of democratic states and peoples. Given the current economic crisis that has grown directly out of this deregulatory ideology, it is worth asking how the separation of the economic from the political has been made plausible, and how we should evaluate it from a normative perspective. By framing the economy as apolitical, neoliberalism makes possible potent forms of structural violence. This, I argue, is its ultimate normative consequence.

I will make this argument by drawing on recently-translated work of Michel Foucault in The Birth of Biopolitics (2008). A close reading of Foucault's genealogy of contemporary neoliberalism will reveal the starkly political nature of neoliberal discourse. In effect, contemporary neoliberal discourse has disguised itself as apolitical, resulting in large scale political/structural violence. Pointing toward recent cases of violent upheaval, and the current deregulatory financial crisis, I will explore the concept of violence, and ask in what ways is violence structured into neoliberal discourse and institutions. I will take up both the symbolic violence of commodification and the structural violence of social inequality.

Through an exploration of different conceptions of the political, I will extend Foucault's work toward a normative government rationality that fuses these separate spheres of the economic and the political into a more cohesive political project.
Bharat Venkat
Department of Anthropology
University of California, Berkeley
"The Anti-Politics of Crisis & The Secularization of Humanitarianism"



In 2001, a massive earthquake hit the Indian state of Gujarat, killing about 20,000 people and injuring many more, according to the US Geological Survey. In the wake of this earthquake, Google.org executive and current Obama transition team member Sonal Shah channeled resources into the affected area through various Indian American organizations, one of which, the VHP-A, is identified with Hindi nationalism. Shah was heavily criticized by a group of leftist academics on the grounds that she might influence the Obama Administration to favor a Hindu nationalist agenda. Shah responded that her "engagement with India has been exclusively cultural and humanitarian," whereas her "political engagements have always and only been American."



At a conference about the politics of crisis, how can we think about the crisis when it is rendered explicitly apolitical? I propose that the philanthropic humanitarian intervention works doubly, not only to depoliticize the crisis, but to secularize the subject of crisis. Understood etymologically and ethnographically, I argue that humanitarianism requires an effacement of the divine or religious in the human, such that aid can only go to the human qua human, not to the human as Hindi, Muslim or Christian. Instead of the figure of bare life exiled from the polis, as in Agamben's formulation, I suggest that we should think through the structure of humanitarianism that produces the figure of the secularized human in the space-time of the depoliticized crisis.
Robert Wood, Ph. D. Student
Department of Comparative Literature
University of California, Irvine
"Aesthetic and Crisis: Brecht's Approach to the Construction of the Popular"


Through his response to Georg Lukacs' concept of art developed in both the Theory of the Novel and his polemics over expressionism, Brecht shifts the question of radical art from one of representation to one of production. This shift occurs through Brecht's critique of Lukac's 'formalism' in his formulation of a political effective literature. For Lukacs, Literature becomes a method to allow an audience to recognize a structure of totality that they exist in, through complex methods of representation and mediation. Brecht however notes that these modes of representation operate on the assumption of a 'people' that is both constant through the years and is already in existence. In this sense, the people is both a formal category and a category that is reflected and recognized literature, but not one that literature contributes to in its production. For Brecht, this category is much more problematic. It is both a category that needs to be produced and at the same time, a category that is under constant threat from the structures of domination of capital. The figure of a people in revolt is a reoccurrant character in history, but only as a non-identical category. Brecht sees art as a space in which those new forms of the becoming people can be brought into being, through both collective artistic engagement on the part of workers and a similar engagement as spectators. Rather than seeing this as a response to Marxism on the part of Brecht, I would argue that Marxism becomes another critical tool in this artistic project. This project focuses on the reworking of older popular artistic forms into forms that are productive within contemporary political struggles. This can be equally found in the Marxist plays of the 1930's as well as the use of popular ballads in Die Hauspostille. However, this paper will spend its time focusing on the both the polemical debates around expressionism and the collectively constructed plays in order to examine how Brecht engages in this project through the lens of a Marxist political project. It will then link that to the narratives constructed in the Lehrstucke project.
Sunny Xiang, Ph. D. Student
University of California, Berkeley
"The crisis of 'Signifyin(g)': A qualification of Henry Louis Gates's reading of double-voicedness and/as double-consciousness"



In The Signifying Monkey, Henry Louis Gates proposes that representational strategies invocative of black vernacular traditions can instantiate the speaking subject. By applying Bakhtin's writings on narrative language to Du Bois's theory of black identity, Gates yokes double-consciousness as heightened self-awareness with double-voicedness as expressive innovation. Gates's reinterpretation of double-consciousness, however, turns the painful experience of "looking at oneself through the eyes of others" into an "exhilarating" condition that liberates the double-voiced subject, not in spite of but by way of internal division. My paper proposes that Gates's conceptualization of doubleness-as-division elides the historical circumstances that have engendered for African-Americans the trauma of a mediated and divided self. Such a conceptualization, I argue, brings the vernacular speaker not into being but into crisis. In examining the crisis of doubleness with respect to language and subjectivity, I figure black identity as both a coming into being and a fundamentally attenuated being. This understanding of crisis hazards neither a wholesale excavation nor a positive theorization of subjectivity but highlights the hegemonic relations within which historically oppressed subjects must negotiate. Rather than supposing a causal relation between voice and subjectivity, I read the literary representation of vernacularity as an injunction to rigorously historicize the processes of language-production and identity-formation – even when (and especially when) these processes are founded on exclusions and negations. Neither a wholesale dismantling nor a spurious reinvigoration of subjectivity, this attempt to situate identity within the ambivalent terms of crisis qualifies Gates's celebration of black vernacularity while still engaging with its horizon of agential possibilities.
Jerry C Zee, Ph. D. Student
Department of Anthropology
University of California, Berkeley
"Crises of Stability: Temporality and Human Species-Action

To ask of crisis is also to beg the question of what condition of stability or reflexive coherence is necessary in order for "crisis" to gain intelligibility: a crisis is always a condition that is marked against a state of putative non-crisis. I would like to think through crisis as a relationship between reliability and uncertainty, between stability and instability, by returning to the conception of western capitalism in Weber's Protestant Ethic, as a way of thinking through some writings on contemporary environmental crisis. Many contemporary discourses of environmental crisis are bound up in tropes of destabilized temporal experience and marked by radical uncertainty and the confrontation with a world that can no longer be experienced as predictable. Faith in homogeneous time, the assumption of a stable temporal ontology, is destabilized in these discourses, and so is the meaning of human action in at least two senses. The first has to do with a re-articulation of the human vis-a-vis "Nature" that has been transformed and exposed as open to transformation by human agencies: anthropogenic crisis entails an emergent agency of the human qua species, a conception that falls back on familiar articulations of nature and culture. The second has to do with the relationship between projections of a stable future and the identity of repeated human actions; I will argue that crisis is the destabilizing condition through which once-habitual actions (for instance, labor in the Arendtian sense) can only be experienced as actions defined by their radical singularity in uncertain conditions.