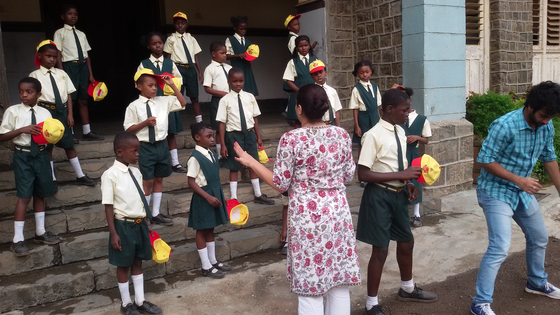 Spotlight Detail
Lecturer Beheroze Shroff receives The Professional Development Award
The award for a short twenty minute film was granted to Beheroze Shroff, Lecturer in the Department of Asian American Studies. Shroff has previously produced four documentaries on Siddis, Indians of African descent in India. Her recent research focuses on the unique activities of Juliana Siddi, model and casting coordinator for the highly competitive advertising industry of Mumbai.
Juliana is considered as the only casting coordinator who can provide a wide range of African models/extras for Television commercials produced in India, for African countries like Kenya, Nigeria, Tanzania and Uganda. Juliana locates her African models from Embassy and Consulate staff and African college students residing in Mumbai.
When African models are unavailable, Juliana enlists members of her Siddi family and village community from the Southern Indian state of Karnataka. Thus, Siddis Indians of African descent, have successfully stepped into scenes of "African" classrooms, family life, or market streets. Additionally, Juliana has trained elderly village Siddis to play African grandparents.
Majority of Siddis in Karnataka today, live in rural, forest areas. They farm their own land, work as agricultural labor and sell forest products like honey, pepper and bamboo. Juliana's work in the commercial film industry has enabled her Siddi artists to earn up to ten thousand rupees per day (approximately one hundred and fifty U.S. dollars). This is a substantial amount of money for a rural family that earns less than seventy U.S. dollars per month. Money earned by Siddi artists is saved for education, coveted goods like a television set, a refrigerator, or a two-wheeler vehicle for transport.
Shroff's film explores questions such as: What challenges confronted Juliana in the highly competitive advertising industry of Mumbai? What were the organizational strategies by which she established herself as the most dependable model coordinator providing African models?
What benefits have accrued to members of her village community in Karnataka? How do the commercials challenge or reinforce the representations of Africans in the popular media or imagination in India? What are the implications for African Indians to represent Africanness to an Indian audience? Does Juliana's gender assist/hinder her efforts to shape commercial representations and employment opportunities for her community?
Attached is a photograph of Siddi children getting ready for a Kenyan television commercial.
Photo taken by Juliana Siddi.